The best small synthesizers are ideal for producing tunes in places and different circumstances where accessing your total sound bank, with various cables plus components, or other pricey live performance instruments like guitars wouldn't be practical or wise. Grabbing your hardware and then creating it on the spot while being in public can be a hassle to you as well as others in the vicinity.
However, you can always whip out a small portable synthesizer, attach your headphones, and begin to get creative at your convenience.
This also is a task in itself for music artists who constantly are on the move and wish to perfect their craft daily, whether on the road or in different establishments when given the opportunity.
Below we've listed four of our best small synthesizers for the money, also keep in mind that every musician is different some may prefer one over another, however with these options you could never go wrong. Let's take a look!
Top Pick

PRODUCT

DETAILS

25-key paraphonic analog synth
Filter, pitch, plus amplifier CV input
USB, MIDI in/out also independent headphone amp
16 presets along with management system

17 paraphonic oscillator modes, offering 7 modes from Mutable Instruments, 7 bespoke Arturia engines, also 3 modes produced with Noise Engineering
Stationary flat PCB with 25-key printed circuit board
CV outputs, hook up to DAW via USB, even use MIDI cables

Teenage Engineering Pocket Operators

Synthesized drum sounds to recreate drum & percussion sonics like snares, hi-hats, kicks, and more.
16 effects like delay, stutter , distortion ect. with dual real-time parameters
Compatible integration with its audio pulse sync

16 Step Sequencer along with 8 memory patches
Play On-Go with built in speaker & also is battery operational 
Sync In & Out allowing integration with other Volca models
Our Top Choices For Small Synthesizers
Arturia MicroFreak Hybrid Synthesizer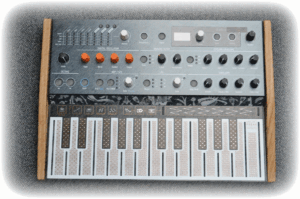 Right out the gate, Arturia's MicroFreak exclusive look grabs your attention instantly. It's truly an eyecatcher, allowing any synth enthusiast to get grimy without much effort, who wouldn't be happy after deciding to add this beauty to the collection?

With regards to construction, this synth's plastic frame along with the keyboard can feel a bit light in weight and fragile. For a mini synth in this price range that is understandable, all things considered, this small synth's excess weight and size are distinct benefits where movability can be uneasy to some.
At the top of this small hardware synthesizer features an OLED display, which displays visual interpretation for any parameter you are tweaking. Featuring real-time visuals is both beneficial as well as artistically pleasant, and also greatly boosts the all-around programming expertise while you get used to your configurations.
With the number of various syntheses stuffed into such a mini machine, it is tough to never catch feelings towards Arturia's heavy-hitting hardware. One of the more engaging attributes of the MicroFreak is its touch-sensitive, capacitive keybed. The unique contact plate design makes it possible for end users to provide natural intricacies with their performances, creating powerful and emotive soundscapes.
With its diversified selection of sound engines, such as Superwave, Karplus-Powerful, and Grain oscillator modes, the MicroFreak gives a wide variety of sonic textures. The paraphonic function makes it possible for end users to play multiple notes altogether, introducing further richness to their compositions.
Moog Subsequent 25 Analog Synthesizer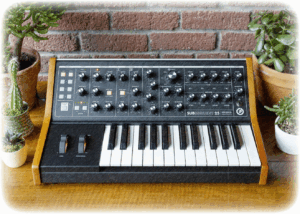 The Moog Subsequent 25 is evidence of Moog Music's undeniable persistence in providing top-tier analog synthesizers that stand the test of time. A successor to the renowned Sub Phatty, this small powerhouse preserves the unshakable Moog sound while presenting thoughtful enhancements.

At the core of the Subsequent 25 lies its dual oscillators, offering a mesmerizing range of vibrant, warm, and fat analog tones that have become symbolic of Moog synthesizers for many years. The addition of an extended mixer section with high headroom enables end users to combine waveforms and sculpt their sound with accuracy.
A standout feature of the Subsequent 25 is its iconic 25-note semi-weighted keybed with an aftertouch. This expressive and receptive keyboard allows artists to infuse their performances with delicate nuances and dynamics, adding an individual touch to the synthesized noises.
The Moog Subsequent 25 doesn't shy away from bass functions, thanks to its highly effective ladder filter. Renowned due to its signature Moog growl and screaming resonance, the particular filter section reveals an entire world of opportunities for crafting anything from earth-shaking basslines to cutting leads.
Another leading feature of the Subsequent 25 is certainly its Duo Mode, enabling paraphonic play. This lets users play two notes simultaneously, opening up fascinating chord and harmony alternatives, all while retaining the unmistakable personality of Moog's analog circuits.
Teenage Engineering Pocket Operators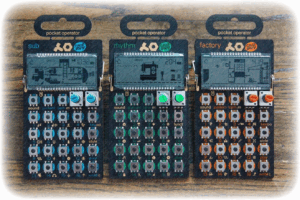 Teenage Engineering's Pocket Operators are a groundbreaking series of compact synthesizers that redefine portable music-making. These palm-sized gadgets pack a remarkable punch, giving musicians and enthusiasts a wide range of creative tools to compose, perform, and test right out of your pocket.

Among the most enticing elements of the Pocket Operators is their affordability and accessibility making this truly a small synthesizer. With multiple models available, each catering to a specific aspect of music creation, users can effortlessly locate the perfect fit for his or her needs without breaking the bank.
These little marvels might be small in size, but they are significant in capabilities. The Pocket Operators deliver a variety of synthesis engines, such as drum machines, lead synths, and bass synths. Each model has an exclusive sonic palette, from timeless 8-bit chiptune sounds to modern and experimental textures. This versatility ensures that end users can create diverse and captivating musical compositions.
Syncing multiple Pocket Operators is effortless, allowing users to sequence them together for synchronized performance and enhanced sonic height. This opens up possibilities for creating intricate and layered arrangements using a combination of Pocket Operator models.
Pocket Operators also embrace the concept of collaboration. Users can sync their units with other gear, which include external synthesizers, drum machines, and computers, enabling smooth integration into larger setups. Considered a top pick as far as small cheap synthesizers.
Korg Vocal Series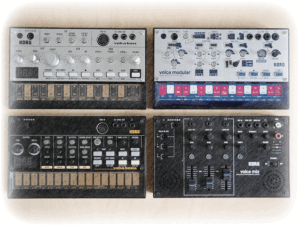 One of the most striking features of the Volca Series is its wide array of offerings. From the analog warmth of the Volca Keys and Volca Bass to the digital versatility of the Volca FM, Volca Sample, and last but not least Volca modular each other version accommodates a selected component of music creation, assuring there's a Volca for any musical demand. Similar to what Teenage Engineering is providing with their pocket operator models.

These innovative designs, such as the Volca Keys, Bass, and FM, boast rich and expressive audio engines that allow users to sculpt a myriad of tones. The Volca Keys and Bass deliver traditional analog synthesis, detailed with resonant filters, enveloping modulations, along with lush chords. In contrast, the Volca FM along with Volca Modular dives into the realm of frequency modulation, capable of reproducing iconic '80s digital sounds and exploring entirely fresh sonic territories.
Complementing the series line-up are the Volca Drum and Volca Sample, focusing on rhythm and sample-based production. The Volca Drum employs innovative DSP technology to create unique and otherworldly percussive sounds, whilst the Volca Sample permits users to import their samples and create beats that defy conventions.
Each Volca type features a built-in sequencer, enabling users to craft elaborate patterns, melodies, plus rhythms without difficulty. Additionally, the sequencers enable you to systemize several parameters, breathing life into performances and compositions.
One of the standout features of the Volca Series is its user-friendly interface. Packed with tactile knobs and buttons, these instruments promote hands-on control and experimentation. The minimalist design helps ensure quick access to important functions, making these Korg Devices suitable for on-the-go live performances and jam sessions without much issue.
Our Verdict For The Best Small Synthesizers On The Market
In the end, the realm of a small synthesizer is teeming with exceptional options that appeal to musicians of all levels and genres. Amongst the contenders for our four standout solutions, each has a proven track record of overall advantages and capabilities, that can expand to many different musical ideas.
The Moog Subsequent 25 mesmerizes with its ageless analog charm and well-put-together sound engine. Featuring an expressive keyboard and robust build, it captures the essence of Moog's legendary legacy, making it a pretty good choice for those seeking out vintage analog warmth plus overall flexibility.
For anyone daring to venture into uncharted sonic territories, the Arturia MicroFreak can be a true game-changer. This quirky little synthesizer combines digital and analog elements, offering a vast range of experimental and mind-bending sounds. Its touch-sensitive keyboard adds a whole new dimension of expressiveness, making it a playground of creativity and exploration.
Moving into the field of pocket-sized powerhouses, the Teenage Engineering Pocket Operators showcase their inexpensive and portable prowess. With many models focused on diverse elements of music production, these types of small synths produce big features. Their intuitive interface, sequencers, and synchronization capabilities make them ideal companions for music-making on the go.
Meanwhile, the Korg Volca Series rises to the occasion as a modern classic that integrates vintage elements with modern technology. With a diverse choice of offerings and a hands-on control interface, the Volca Series captures the hearts and minds of music artists seeking both analog legitimateness and modern usefulness. The ability to load classic Roland synth models through PLUG-OUT technology elevates its versatility and brings a nostalgic style to productions.
Regardless of the chosen path you take, any one of these exceptional small synths will certainly open doors to a world of sonic exploration and artistic expression. It doesn't matter if you're a skilled musician, a beginner, or even a curious creative, the best small synthesizers for you awaits, ready to ignite a symphony of motivation and propel your musical experience to new levels.